If you're missing teeth, or you need to have a tooth extracted and want a way to permanently replace that tooth, consider dental implants. Dentists and patients alike prefer dental implants as denture alternatives because they fit securely, look natural, and can last a lifetime when properly cared for. Dr. Marshall is trained in dental implant restorations, so if you've had an implant placed and need a crown or bridge designed and placed on top of your implant, we can help. Our team can also help stabilize your dentures using dental implants.
Benefits of Dental Implants
Look, feel, and function like natural teeth
Replace one teeth or many
Provide a solid anchor for the restoration on top
Can last a lifetime when properly cared for
Serve as great alternative to dentures – don't slip, click, or require messy adhesives
Dental Implants FAQs
What Are Dental Implant Restorations?
To begin the dental implants process, you'll visit a dental implants specialist, often a prosthodontist. This dentist places the dental implant – a small titanium post – into your jaw in place of the missing tooth. The titanium fuses with the bone to form a solid anchor, which acts as a replacement for the tooth root.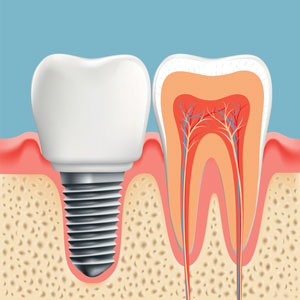 After the implant has healed and fused, visit River Vista Dentistry for your restoration. The restoration is the part of the implant that looks like your natural tooth and gives you back the function of your natural tooth, too. For single tooth replacements, we often recommend a dental crown or a dental bridge. To replace most or all teeth in a single arch, we may recommend a denture. If your restoration is a denture, we may be able to stabilize it using your dental implants, meaning no more slipping or clicking like traditional dentures. You also won't have to use messy adhesives either! Denture stabilization using dental implants is a popular replacement option, so if you would like to consider this, talk with your dental implants specialist and Dr. Marshall so we can coordinate your treatment plan.
Cost of Dental Implants in Charlotte NC
At River Vista Dentistry, we know that getting the smile of your dreams comes at a cost, but that cost shouldn't keep you from great dental health. We provide flexible financial options to help keep dental implants within your budget. Our in-house membership plan saves members 15% on restorative treatments. We also accept financing through Comprehensive Finance™ and CareCredit®, both of which offer low- and zero-interest financing options and extended repayment plans. Call our office and let our knowledgeable team help you decide which option is best for your situation and to learn more about the cost of dental implants in Charlotte NC.
Are Dental Implants Painful?
At River Vista Dentistry, most patients report that they experienced minimal pain during and after the procedure and feel better than they anticipated. While there may be some discomfort, we suggest taking an over-the-counter painkiller afterward to help with the discomfort and bruising. The majority of our dental implant patients return to work and everyday activities within 1-3 business days.
Are Dental Implants Safe?
For over a century, dental implants have been used as a safe and long lasting method of restoring smiles. As with any medical procedure, however, there can be complications. River Vista Dentistry Dentistry's knowledgeable dental team are highly trained in dental implantation. Their expert skills will minimize complications and provide quality treatment before, during, and after the procedure. It's important to review your health history and any habits that may impact the success of the dental implant procedure and healing process with Dr. Marshall.