It is our goal to supply the Charlotte community with quality and comprehensive dental care that you can count on. As a dentist in Charlotte, Dr. Marshall understands that in order to provide the best care available, he should offer all dental services under the same roof. At River Vista Dentistry, we administer a complete range of dental services that includes preventive, restorative, cosmetic, teeth straightening, and kids dental care. No need to drive all over town from specialist to specialist, we'll take care of all your dental needs!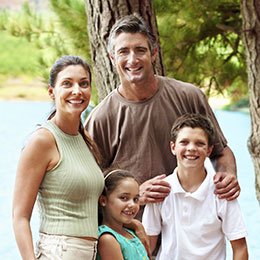 Preventive Dental Care
Quality preventive dental care is the best way to keep your teeth healthy for a long time. Routine examinations will pinpoint any potential problem areas and allow Dr. Marshall to prescribe treatment to take care of the issue before it has the chance to turn into something major down the road. We often hear the phrase "my teeth don't hurt so there is nothing wrong", which unfortunately is not true because when your teeth or gums are hurting, it's usually past the point of preventive care. You will save lots of time, money, and stress in the future with routine preventive examinations.
TMJ/TMD Therapy: The muscles in your jaw are extremely complex on account of the range of movement needed to eat and speak. Sometimes the muscles or joints in your jaw can become irritated and result in pain when in motion, which is all the time! Dr. Marshall will assess your jaw and prescribe therapy to improve the functionality of your jaw so you can smile and eat without any more pain!
Athletic Mouthguards: Without the protection of a mouthguard, the chance of damaging your teeth during a sporting event increases greatly! To keep your pearly whites fully intact, we suggest seeing Dr. Marshall for a custom fitted mouthgaurd. Accidents always happen quickly so be prepared!
Fluoride Treatments: Fluoride is a natural mineral that promotes healthy enamel growth and assists in the constant battle against pesky plaque build-ups. Our treatments give your teeth a heavy dosage of fluoride and is very beneficial for your teeth.
Headache Prevention (NTI): Do you have constant headaches or migraines? It's very possible that the muscles in your jaw are causing your headaches to occur on a regular basis. Dr. Marshall can help your muscles relax and provide you with much-needed relief.
Nightguards (for Bruxism): Some people don't even realize that they grind and clench at night. If the symptoms fit, we'll supply you with a small and unobtrusive nightgaurd to wear while you sleep. This will protect your teeth against harmful grinding and release the tension created by clenching.
Oral Cancer Screening: We will perform a thorough examination of your mouth, gums, jaw, and neck for any abnormalities. If caught early, oral cancer is highly treatable, so this is a very important part of preventive dental care!
Sealants: Our younger patients are more prone to cavities than our adult patients. To combat tooth decay, we can seal the hard-to-reach areas and clean molars with a protective sealant that shields plaque and caries from penetrating the tooth's enamel. If you're curious about what causes cavities in the first place, our blog post can answer all of your questions.
How often should I schedule cleanings and exams?
Most patients are able to maintain healthy smiles by implementing a thorough at-home oral care routine and scheduling biannual dental exams and teeth cleanings. In some cases, we may recommend that a patient visit our office three or more times a year, and this is usually because they have periodontal (gum) disease or they are on the verge of developing periodontal disease. Our team can assess your smile and help you decide how many preventive visits you should be scheduling per year during your next visit.
Who is a candidate for dental sealants and fluoride treatments?
Virtually anyone who wants to protect and strengthen their teeth is a great candidate for both dental sealants and fluoride treatments! These services are often recommended for children, as they help promote positive oral health from a young age, but they can be excellent preventive dental services for adults as well. Dental sealants last for many years once they are placed on the teeth, and fluoride treatments can be performed during every preventive visit or as needed.
How do I know if I need a custom mouthguard?
It's usually obvious to patients when they need a custom athletic mouthguard, but it can be more difficult to determine when a nightguard for TMJ or bruxism is necessary. If you experience any symptoms like jaw soreness, frequent headaches, or jaw clicking or popping, please let our team know. We can also examine your teeth and gums for signs of dental trauma and gum recession, which will help us form a diagnosis and create a treatment plan for you.